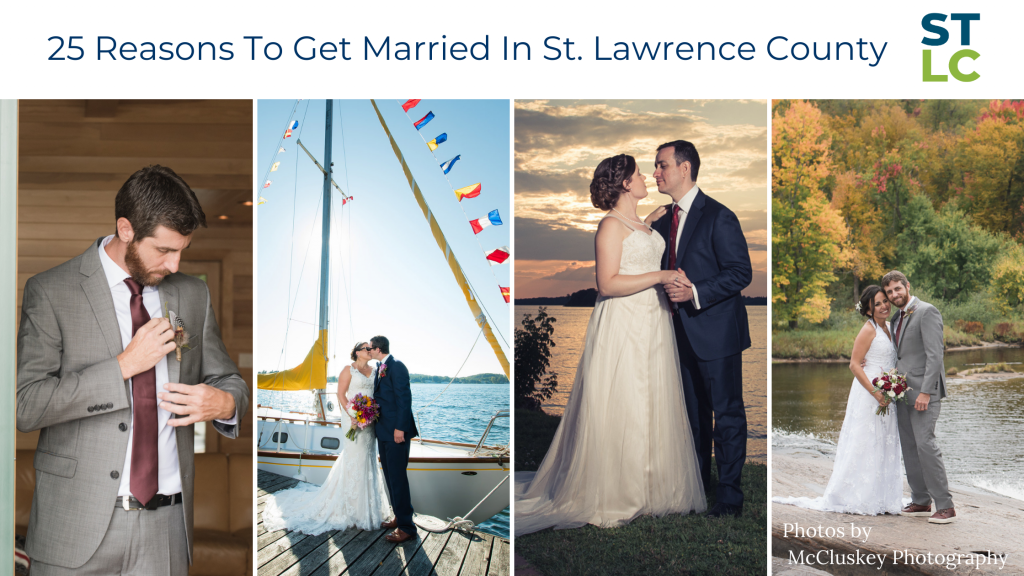 Getting married is one of the biggest events in anyone's life... and there are lots of reasons to get married in St. Lawrence County.
Here are 25 reasons we think you should get married in St. Lawrence County!
Note: Please follow state law and other guidelines protecting health and safety during COVID-19... or use this blog post as some inspiration to plan a future event.
St. Lawrence County is home to a lot of amazing barns you can get married in, from Sunset Acres in Canton to the 1844 House in Potsdam (behind the restaurant)... and many many more options. So break out your mason jars and hay bales and give your wedding guests a North Country wedding! Check out the Barn Quilt Trail...
Churches not your thing? St. Lawrence County is home to a variety of non-traditional wedding venues

, from Bella Brooke Winery on Black Lake to Singer Castle in Chippewa Bay, take your wedding to an exciting destination for a day you'll remember forever.

Did you know in New York State you can get married in a state park? There are some great options for an outdoor ceremony right here in St. Lawrence County

(with nearby camping!).

Worried that if you get married in St. Lawrence County you won't have excellent bachelor or bachelorette party options? Besides the fun downtown bar crawls, there are also beautiful hikes and golf courses to spice up your bash.

Get your party on even before your STLC wedding starts!

Have a lot of friends and family from all over? Getting married in St. Lawrence County means you can have guests fly into Ottawa or Montreal (or one of the smaller airports in Massena, Saranac Lake, or Ogdensburg) for a destination wedding that is relatively easy to get to.
Do you have a wedding party full of foodies? St. Lawrence County has plenty of farm fresh food options, great local catering businesses, and even food trucks

that will even come to your reception!

Love craft beverages? Micro breweries, wineries, and even an award winning hard cidery are found in St. Lawrence County.
St. Lawrence County has the full four seasons of weather which means your wedding has great outdoor photo options.

If you picture saying your vows on a crisp fall day, calm summer night, a spring afternoon, or a cozy winter evening - we've got you covered with a perfect natural backdrop!

Dreaming of a large wedding, but stuck on a budget? St. Lawrence County has low priced accommodations compared to many destination wedding options

… so it won't cost your loved ones an arm and a leg to come from far away to celebrate your special day!

Want to wow your guests with favors? From craft food products like maple syrup to locally produced artisan crafts, you can give each guest a 'thanks for coming' momento

of your day that is special and local.

Got some wedding guests traveling from far and want to show them a good time? St. Lawrence County offers tons of different ways for you guests to unwind and have a few days full of fun!

From mini-golf, to a massage, shopping to boating, St. Lawrence County has it that make attending your wedding be a bonus vacation.

Take advantage of the fact you are getting married in one of the best hiking destinations in the country. St. Lawrence County has a multitude of parks and hiking destinations for you to explore before the big day!
If your wedding guests have kids, St. Lawrence County is the perfect spot to get in a family vacation.

From the

Nicandri Nature Center (Massena)

to the

North Country Childrens' Museum (Potsdam)

to Fobare's Fruits (Rensselaer Falls) to the indoor games and arcade at St. Lawrence Centre (Massena), there are plenty of activities for all ages to enjoy.

Dreaming of a wedding with a perfect view while you and loved one say "I do"? St. Lawrence County is PACKED with incredible vistas to present the perfect backdrop to your big day.

Incorporate the outdoors into your celebration of love for the event itself or even just the photos.

Love the idea of a summer wedding? St. Lawrence County is full of areas for outdoor vows, waterfront celebrations, and all that summer in northern New York has to offer!
Whether your guest list is large or small, St. Lawrence County has the venue and accommodations to meet your guest list needs! From Castles, to intimate barns, we've got it all.
Looking for the perfect photographer for your wedding? Want amazing flowers? St. Lawrence County has a plethora of talented businesses ready to contribute to your big day!
Having a small intimate wedding? Consider renting a vacation home to have your closest friends by your side on your special day! Vacation homes in St. Lawrence County are PERFECT to create that intimate feel while giving everyone a chance to connect.
From St. Lawrence County? Consider coming back and celebrating in your home town! Coming home to celebrate your wedding allows friends to be close (they'll RSVP quicker!), old traditions to be explored, and creates a space you and your spouse will always want to revisit, even if you live far away.
Getting married in St. Lawrence County, but you don't know where you're honeymooning yet? Consider staying local and exploring all that St. Lawrence County has to offer with your new spouse! There are plenty of day trip possibilities and chances to try new activities together.
Are you an adventurous couple? From ice climbing to white water rafting, begin your adventure as a couple with an adrenaline rush.

Want a waterfront wedding? From the St. Lawrence River to small lakes, you can have your reception on a boat, make a grand entrance by water, or otherwise take advantage of a shorefront scene for your big day.
St. Lawrence University, Clarkson, or SUNY alumni? Your alma mater campus is a great place to get hitched.
Love music? With the Crane School of Music nearby and over 300 concerts happening in the area in the average calendar year, you can find great musicians to play at your wedding... and continue the fun at a local venue or festival and see other artists perform.
If you want to get around in style, you could rent a limo... but you can also make a grand entrance in a horse and carriage, on a boat, and even a vintage car. Check out our transportation members for some great options.
We know you have a million reasons to get married to the person of your dreams but here's hoping you will share your love here in St. Lawrence County.
We'd like to thank McCluskey Photography for contributing the photos to this post.