Where to Eat & Drink in St. Lawrence County
St. Lawrence County has a rich agricultural heritage, which continues to embrace access to fresh food, new craft beverages and creative cuisine. Whether it's home grown, home cooked, or home brewed there is always something to satisfy your tastebuds. Farmers markets galore can be found in many of the communities, offering all sorts of fresh local products. The dining options offer variety and something can always be found for the pickiest of eaters. With plenty of fresh produce and generations of family recipes, we're always pushing our abilities to offer locally sourced but innovative dishes & beverages. Several restaurants have menu items to serve those with restrictions, such as gluten free, lactose free and vegan options.
Local Restaurants, Diners and Cafes
There is always good food to be found when traveling, and St. Lawrence County has its share. Potsdam has an abundance of restaurants from American food to ethnic favorites such as Chinese, Italian, Mexican, and Thai. Some of the best Italian restaurants can be found in Massena, and many Canadians make the trek across the bridge for dinner. In Ogdensburg you can find restaurants along the St. Lawrence that not only serve spectacular food, but the views at sunset are breathtaking. Of course pretty much each community has a great American small town diner, with home cooked specialties and desserts. So after a long day's hike, paddle, or round of golf, head out for a great meal at one of St. Lawrence County's many dining options.
Regional Beer, Wine and Local Craft Beverages
St. Lawrence County has a popular wine scene and a growing craft beverage scene. As more new breweries, wineries and distilleries continue to pop up, keep your palettes peeled for the next tasty brew!
Taste Your Way Along the St. Lawrence County Wine Trail
The St. Lawrence Wine Trail was officially designated as the 18th wine trail in New York State in August 2014 by Governor Andrew Cuomo. The St. Lawrence Wine Trail extends across the region, allowing visitors to explore the area and a wide range of local beverages. The 80-mile trail, which includes Black Lake, Ogdensburg, and Winthrop, highlights stops at River Myst, High Peaks and Bella Brooke Wineries. Other craft beverages can be tasted beyond the trail, such as Kaneb Orchards (Massena) award winning hard cider and In-Law Brewing Company in Chase Mills. Visit www.stlawrencewinetrail.com for more information.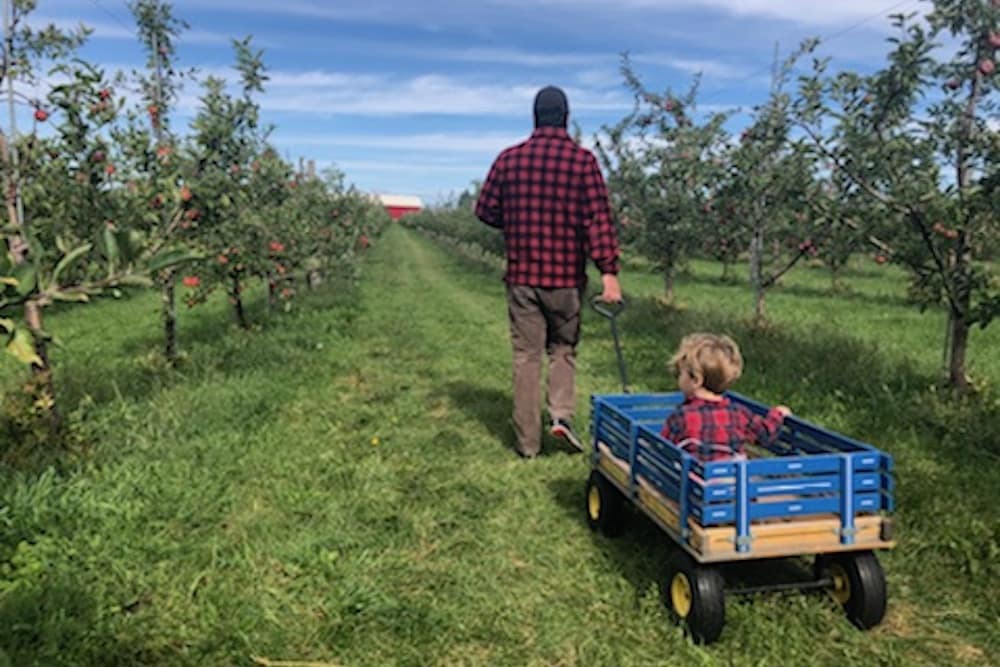 Farmers Markets & Local Specialties
As one of the top farming regions in NYS, it's not hard to find farm fresh products in St. Lawrence County. With farmers markets all across the county and local restaurant menus featuring locally sourced foods and ingredients, you'll really get an authentic taste of the North Country!
Seasonal & Fresh Produce
Farmers' markets can be found all across the region in our towns and villages from spring through late fall with some markets open in winter at indoor venues. You'll find the freshest fruits and vegetables, artisanal cheeses, and locally raised meat and poultry. For a current farmers' markets schedule, a list of local farms and where to find what products, and even local restaurants feature locally sourced foods, contact local Chambers of Commerce or GardenShare, a non-profit organization that produces an annual comprehensive local food guide: www.gardenshare.org
Maple Country
New York is the second largest producer of maple syrup nationwide. At the end of March, local maple operations open up their sugar shacks and receive visitors for Maple Weekends, part of a statewide celebration. The St. Lawrence County Maple Producers Association has more details on how and where to buy local maple products year-round: www.slcmaple.com