Biking and Cycling in St. Lawrence County
The St. Lawrence Mountain Biking Association is another great resource for mountain biking trails and events. And visit St. Lawrence County Bed & Breakfasts, for a list of B&Bs who cater to cyclists.
Please note: if you are visiting from Canada or crossing the border into Canada, bicyclists now need to have a passport, enhanced driver's license, Sentri or Nexus identification. Bicyclists may cross at the St. Lawrence International Bridge between Massena and Cornwall, Ontario; as well as the 1000 Islands Bridge in Alexandria Bay, USA. There is no toll if you are riding a bicycle when you cross.
The Ogdensburg, NY International Bridge currently does not allow for bicycle riders to cross on their bikes at this time.
Something for Everyone
Bike trails in St. Lawrence County are rated by difficulty so you can choose a trail that suits your skill level or just your mood. Check out the difficulty ratings and recommended trails below, or visit STLCTrails.com for more detailed and interactive trail information.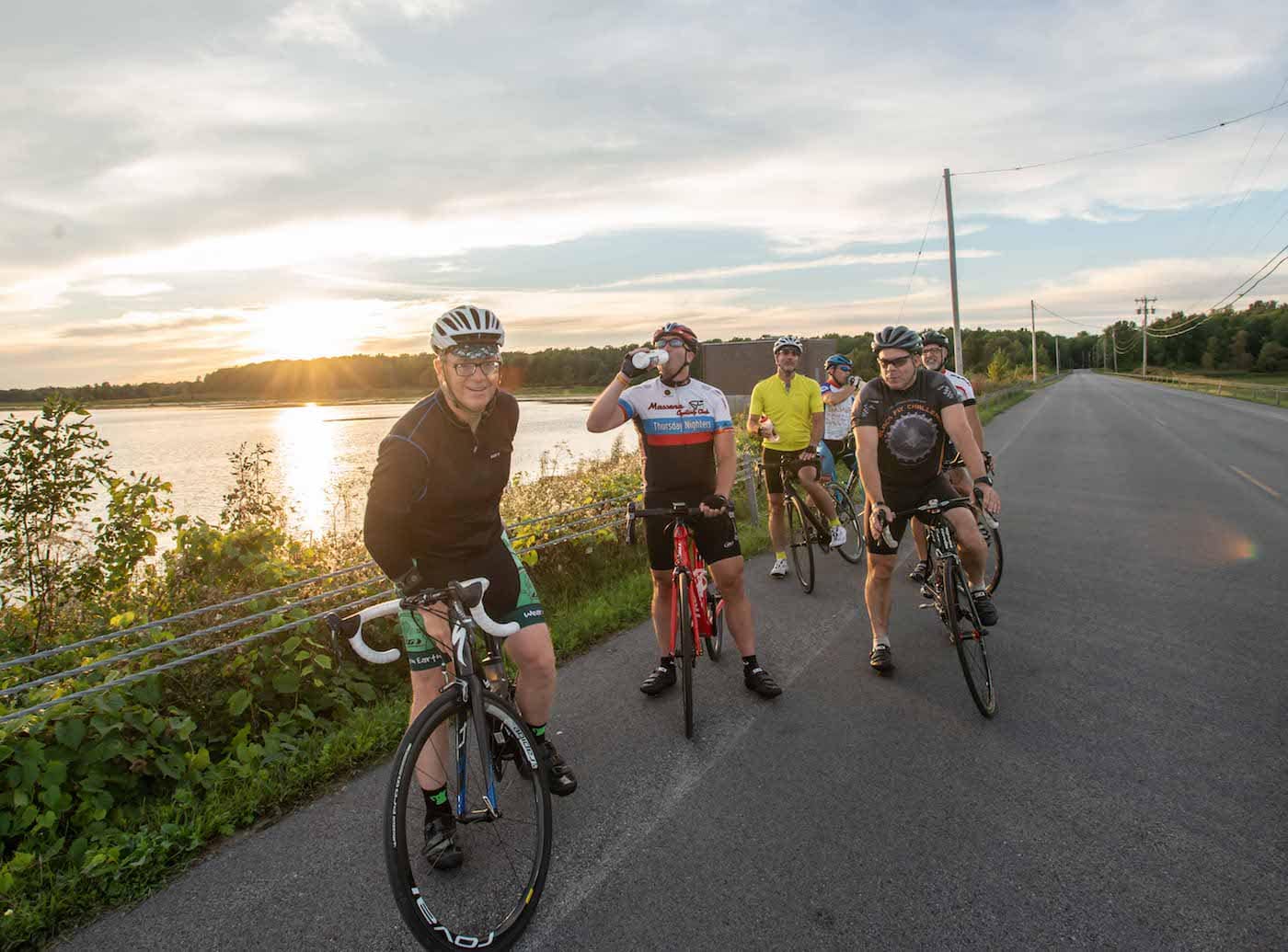 Easy Rides to Get You Started
St. Lawrence Seaway Ride (52 miles, rated 1). This rides starts from Canton and proceeds through Madrid to Waddington then follows the Seaway Trail (State Highway 37) to Massena. Only two of the St. Lawrence Seaway's seven canals are located on the U.S. side of the River, and this ride takes you to the Dwight D. Eisenhower Lock. You will be able to view the lock from the Observation Deck, and then ride underneath it on your way to the St. Lawrence-FDR Power Project and Robert Moses Power Dam, which transformed the River's International Rapids to Lake St. Lawrence, a power pool almost as large as the District of Columbia. The Admission to the Lock and the Hawkins Point Visitor Center is free. The return route is on the same road just with a different view, and extra chances to view oceangoing ships.
Pleasant Valley Ride (16 miles, rated 2). Lightly rolling terrain and sparsely traveled back roads have made this ride popular with the locals and visitors alike.
Morley-Bucks Bridge-West Potsdam Loop (23 miles, rated 2). This undulating ride takes you along the Grasse River through Morley to Bucks Bridge, then to West Potsdam and back to Canton through prime farmland. In Morley if you turn left at the intersection of County Route 27 and County Route 14, a short detour will take you to an interesting old Episcopal church and graveyard. Some stretches of this route can be windy but it is still a good route for a laid back rider. Click here for route map.
Indian Creek Tour (24 miles, rated 2). This scenic tour takes the rider along the flat to gently rolling country roads between, Canton, Morley and Rensselaer Falls and completely around the Indian Creek Nature Center. Points of interest include one of the few grist mill ruins still standing in the County. You will also see Trinity Chapel, constructed in 1871 in Morley. There are several Amish farms along this route, and deer and waterfowl abound in the woods and marshes. Road surfaces are generally good to excellent with little traffic. Click here for route map.
Frederic Remington Ride (57 miles, rated 2). The famed Western century artist Frederic Remington was a native of Canton is buried in the local Evergreen Cemetery. This ride passes the Indian River Wildlife Refuge, through the hamlets of Rensselaer Falls and Heuvelton and along parts of the Oswegatchie River to Ogdensburg. Here you can tour the Frederic Remington Art Museum,  located in the Parish Mansion where his widow Eva (Kid) lived until her death. In addition to exhibits relating to Remington himself, the Museum houses one of the world's finest collections of his works including paintings, sketches and sculptures. Food and water are not allowed in the museum, and please no cleated bike shoes. The return trip to Canton takes you along the St. Lawrence River past Red Mills, home to the River Myst Winery, turning East through some of St. Lawrence County's prime farmland. Click here for route map
Pyrites-Old Dekalb Road (17 miles, rated 2+). This short tour takes the rider into a series of scenic hills south and west of Canton. At the edge of village you will cross over the Little River on a wooden bridge. About ¾ of a mile beyond that bridge on the right you will see the Meadows restaurant. After that point there are no more services on this tour until you return to Canton via the Old Dekalb Road, so take plenty of water.
Church Ride (47 miles, rated 2+). This ride tours a series of historic churches and churchyards between Canton and Waddington on the St. Lawrence River. The ride passes sites at Morley, Bucks Bridge, Waddington and Chipman. In Morley, view both the Trinity Chapel, constructed in 1871 and one of the few grist mills remains left in the County. Road surface conditions along this flat to rolling tour are generally good to excellent. This ride has been featured in the book, "Best Rides in the Mid Atlantic," by Trudy E. Bell. Click here for route map.
Moderate to Difficult Rides
Canton Pyrites Loop (14 miles, rated 3). This scenic ride takes the rider along the flat to gently rolling county and town roads between Canton and Pyrites, bypassing the hamlet of Pyrites. Road surface conditions along this tour are generally good to excellent with little traffic.
Crary Mills Loop (20 miles, rated 3). There are some rolling hills on part of this route with plenty of flat portions in between. Roads are good to excellent.
Foothills Loop (27 miles, rated 3). Rolling all the way, this takes you along the edge of the foothills of the Adirondacks. There is an elevation gain of around 500 feet, but you'll climb a total of 700 to reach that.
Old Mill Town Loop (32 Miles, rated 3). The real hills start around the 9 mile point and continue off and on until the return to Canton. Take plenty of water as there are no services on this route. Though you can hardly tell it today, the little hamlet of Pyrites was a bustling paper mill town until the mill closed in the late 1920s. Hidden behind vegetation, the mill ruins are still visible between mile 23.6 and 23.8. Among the thriving businesses was Dominic Benedetto's grocery store. Dominic's young nephew, Antonio Benedetto went on to achieve fame as singer Tony Bennett.
Raquette River Loop (34 miles, rated 3). This loop takes the rider over the hills from the Grasse River valley to the Raquette River valley at Hannawa Falls and back by way of the crossroads community of Pierrepont. It is one of the more challenging middle distance rides. None of the hills is really formidable but several are more than gentle rises. After you cross the river in the hamlet of Hannawa Falls there are a couple of stores as you leave the village you will come to the entrance of Postwood Park, a good place for a picnic lunch or a swim.
Lampson Falls Loop (48 miles, rated 3+). After a good climb out of Russell, there are a couple of options for breaks at either Poor Ol' Satchs' or the Bear Paw at Whippoorwill Corners. About 10 miles beyond is the stopover at Lampson Falls, with a short walk into the falls. This series of falls features a basic camping and picnic area, and is unusual in that you can stand or sit at the very edge of the falls.
Whippoorwill Metric Century (63 miles, rated 3+). This ride, though outside of the Adirondack Park itself, give you the full North Country and Adirondack treatment, with winding and twisting hilly back roads weaving through farmland and wooded areas.
Tooley Pond Loop (44 miles, rated 3, and 84 miles rated 4). This loop is actually two separate rides. Leaving from Canton is the total 86 miles, while a report start from Degrasse results in a 44-mile total. In either case, this is one of the beautiful wilderness trips for which the Adirondack Park is known. Part of both rides follows the Oswegatchie River. Along the Tooley Pond Road, you will either see deer or be seen by them – count on it! You'll pass logging roads, as well, and stay alert for herons, hawks and other birds. THIS IS NOT A RIDE FOR BEGINNERS. There may be some sections of the road that are dirt, and some steep downhill sections with rough pavement, check your brakes before the ride.
South Colton Loop (41 miles, rated 4). This ride ascends into the Adirondack foothills, making a loop through South Colton and Colton, which lie just outside the Adirondack State Park. The terrain is mostly hilly with a few challenging longer climbs. A stopping point at mile 32.3 (after that surprise climb you'll deserve a break) provides a long view across the St. Lawrence River Valley atop the hills in Pierrepont. From there the descent into Canton on State Highway 68 is enjoyable and fast, but requires caution because of hills, curves and narrow shoulders. Along this route is the picturesque hamlet of Colton, with White's General Store at the top of the hill, with the Sandstone Zion Church across from the Heburn Library at the bottom. As you enter South Colton, you will pass Sunday Rock, the legend is in the lumbering days this was the divide between civilization and the lawless. There was no law south of the Rock, and no Sunday recognized, as the days all flowed together as they worked 24/7.
Joe Indian Loop (72 miles, rated 4+). This is a truly challenging ride, climbing a total of over 2,600 feet with some steep grades. It has many beautiful vistas typical of the Adirondack Park and a spectacular view from White Hill of the St. Lawrence River Valley and over into Canada on a very clear day. There are no services between South Colton and Parishville, so a good supply of water is necessary.
Adirondack Century (103 miles, rated 4). A scenic trip from rolling farmland to hilly sections of the Adirondack Park. From a beginning elevation of about 300 feet, you'll gradually reach a maximum elevation of 1,600 feet, climbing over 2,800 feet in the process. Watch for deer, hawks, and herons. There are few places for water or provisions along the route, so stock up when you can.
Adirondack Overnight (approximately 100 miles in 2 days, rated 4). This is essentially the Adirondack Century broken up into two days. Over the years this has ranked with the Kingston Overnight as one of the club's favorite rides. An overnight stay can be arranged, please see lodging for details.