WE'RE HIRING! The St. Lawrence County Chamber is seeking an Executive Director as part of restructuring. Applications accepted until November 9th at 9am.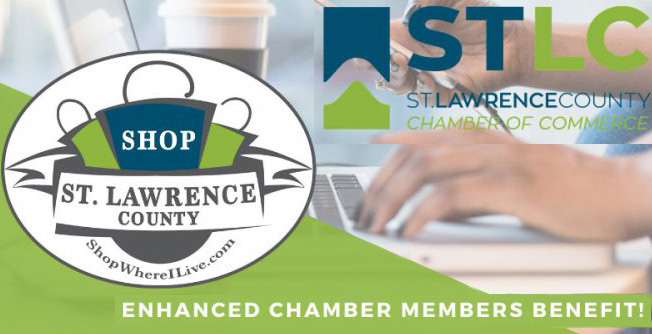 The Online Marketplace is Live!
Enhanced Chamber Member businesses can now sell online TOGETHER through a shared marketplace platform. This new marketplace allows customers to shop online in one place for items produced and sold across St. Lawrence County. Start Shopping Here
The opportunity is available to Enhanced Chamber Members (only $50/year in addition to dues).
Members can create individual shops, offering integrated payment and processing for shipping or pickup. This is an inexpensive, streamlined way to get your business online! From event tickets to handcrafted items to takeout and gift cards. More Info Here
Upcoming Chamber Events & Webinars
Sign Up for Our E-Bulletins to Stay in the Know!
The St. Lawrence County Chamber of Commerce is committed to our members and works to create economic opportunities by acting as a catalyst for improving the county's business environment. Our mission is to cultivate, develop and support chamber members and other businesses by creating a vibrant business climate that encourages growth and enhances the unique quality of life in St. Lawrence County.
Stay current with our weekly STLC Business eBulletins!
ANNOUNCEMENT: St. Lawrence County Chamber hiring new Executive Director as part of restructuring.
Applications being accepted until November 9 at 9am. View full job description here.
---
EVENT: Virtual Happy Hour Annual Celebration (in place of Annual Dinner)
Thursday, November 19, 2020 5-6pm
In place of our Annual Dinner, which typically attracts 250 people for a grand celebration, we look forward to being together this year - virtually - to celebrate and support our County businesses. The program will include: Business of the Year Awards, 2020 in Review, 'Door' Prizes and Silent Auction.
Please join us on your computer or by phone call-in. Details will be emailed upon registration.
Members of the Leadership Circle are major investors in the Chamber.  Being a Leadership Circle member demonstrates your companies commitment to growing jobs, promoting business success and making St. Lawrence County a great place to live, invest, work, play and raise a family.
The Leadership Circle benefit package gives your company added business visibility year-round, event attendance, priority sponsorship opportunities and recognition of your commitment to the community.
Thank You to our Leadership Circle Members
The St. Lawrence County Chamber offers a tiered membership that runs on a calendar cycle, from January 1 through December 31. Membership dues are based on the chosen tier level and number of full-time, part-time and seasonal employees.
Chamber Members Online Member Center Account Login
The Member Information Center is an internal website just for our Chamber members. It gives you the ability to manage a variety of activities and serves as a great marketing tool for your business. For more information and tutorials:
We send out weekly e-mail bulletins as well as information on regarding event registrations, webinars, quarterly newsletters, and other opportunities. Please be sure that your e-mail address, as well as other company representative's e-mail addresses, are accurately listed in the Member Center. Please contact us if you would like to add additional businesses reps to our e-mail communication list.
Chamber Communications Survey:
In an effort to save money and not waste paper, we would like to know if you would still like to receive your Bi-Monthly Newsletter in print, mailed to your office. If you enjoy reading them and passing them around your office, we are happy to continue sending them. If you are happy with the electronic version we send and typically just toss the print edition, let us know!
Take 5 Minutes to complete this 2 question survey. We are working to build conference tourism in the County, to increase new visitors, expand low seasons and support business development.