Explore St. Lawrence County

Trying to figure out how or where to start your trip? Check out some of our most convenient travel options and prominent locations to visit, or take your pick from some of the region's most popular activities and go from there!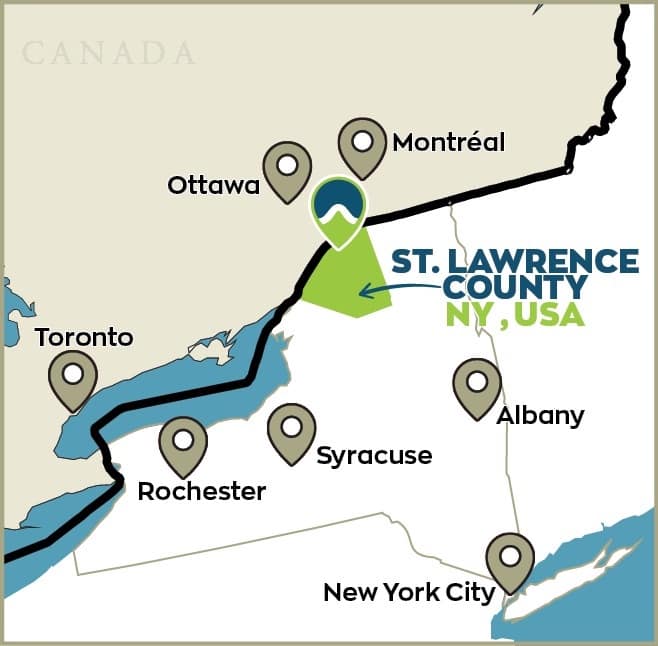 Convenient access points for Americans and Canadians
Three Nations Bridge / Seaway International Bridge
Entering from Cornwall Canada via Massena
The Seaway International Bridge in Massena is a popular access point for St. Lawrence County visitors, including access by automobiles, cyclists and pedestrians. The Seaway International Bridge links Cornwall, Ontario, Akwesasne, and Messena and was renamed the Three Nations Bridge Crossing in recognition of the 3 nations it connects, including Canada, Akwasasne, and the U.S.A. Vehicle toll costs can be paid in either Canadian or US dollars and usually between $3.00 and $4.00, though pedestrians and cyclists can enjoy free entry.
For information on current wait times, toll rates, commuter cards and frequent users discounts, or for more specific information about this bridge crossing, we suggest contacting the Seaway International Bridge Corporation directly.
Ogdensburg-Prescott International Bridge
Ogdensburg International Airport
Massena International Airport
Drive Times to Canton from Popular Destinations:
As County Seat of St. Lawrence County, Canton is a popular destination for visitors both professional and leisurely.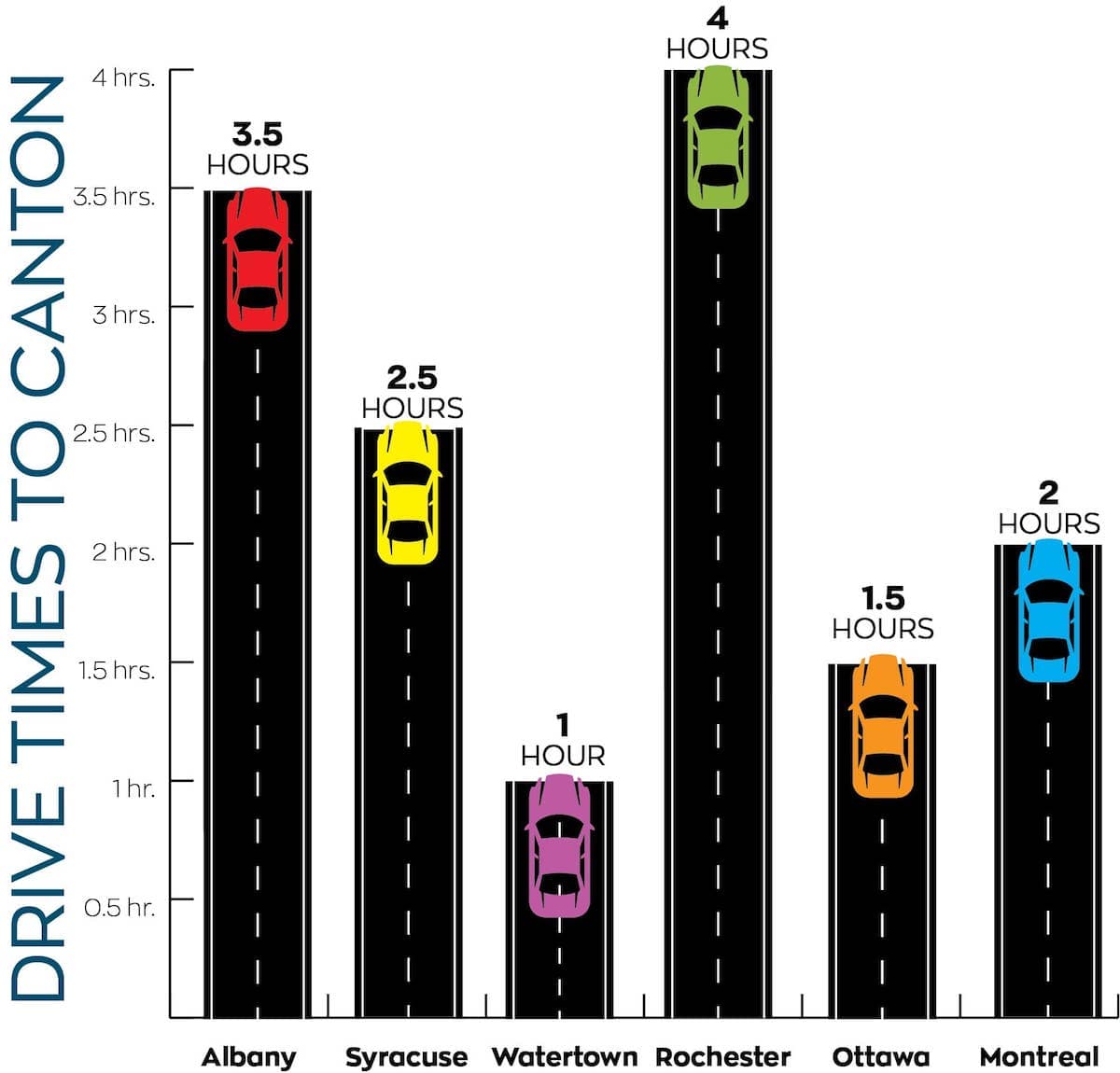 Area Activities & Things to Do
From Wine Tours & Shopping to Fishing Trips & Camping
No matter what kind of visit you're planning, from business trips to family vacations, you're sure to find an activity for everyone. With our beautiful Adirondack campgrounds and bountiful outdoor activities along the St. Lawrence River and it's many nearby lakes and streams, there's no shortage of adventure. We've got prime fishing, hunting, hiking, biking, camping, paddling & more. For the more culinary-focused, or arts, culture and entertainment inclined, check out our local restaurants and wine trails and be sure to visit our many arts & performance venues. Have an interest in history & museums? St. Lawrence County is home to all kinds of historic landmarks and museums. There's something for everyone!
From the Seaway Valley to the Adirondack Mountains
St. Lawrence County can be divided into four zones: the St. Lawrence River and immediate vicinity, the Valley, the Adirondack Foothills and the Adirondack Region. Depending on which area of the county you're planning to visit, you'll likely find most of the information you need by getting familiar with these prominent cities, towns, and villages. Whether they are your intended destination or just a short drive away, these areas tend to be the best hubs and activity centers for both locals and visitors alike.