A lot of progress is being made in terms of access to healthcare in the North Country, but hospitals, clinics and health centers aren't the only health and wellness options available.
Natural, holistic, and alternative healing modalities are strong and effective practices that help support the body, mind, and spirit, by bringing you into balance.
These modalities are not meant to replace medical treatment or advice, they are meant to work in collaboration with the traditional medical community, encouraging health and wellness.
There are a lot of alternative and complementary healing modalities available here in St. Lawrence County. We'll be covering this blog post in two parts and have tried to find practitioners for each modality. If we've inadvertently left someone off the list, please contact us so we can add them!
Chiropractic Treatment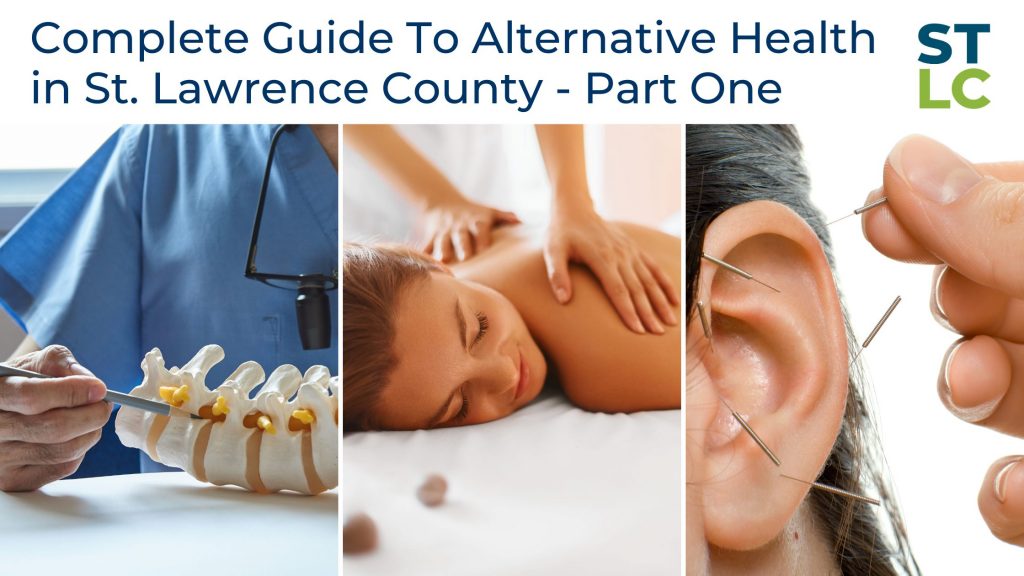 Chiropractic medicine focuses on the relationship between the body's skeleton, muscles, and nerves with the intention that the body has the ability to heal itself if given proper support. It is a hands-on modality using manual manipulation of the spine to improve health. 
Clark's Chiropractic & Wellness
315-714-2033
Canton, NY
Locklin Chiropractic, PC
518-481-6886
https://www.locklinchiropractic.com/
Malone, NY
Towle Chiropractic 
315-386-2273 (Canton)
518-483-6300 (Malone)
https://towlechiro.com/
Canton, NY and Malone, NY
Scott B Springstead, D.C.
315-344-4035
https://www.scottspringsteaddc.com/
Heuvelton, NY
Back In Motion Family and Sports Chiropractic
315-261-4866
http://chiropracticbackinmotion.com/
Potsdam, NY
North Country Chiropractic
315-344-7296
https://www.drtimkelley.com/
Heuvelton, NY
Waddington Chiropractic & Wellness
315-388-3119
https://www.waddingtonchiropractic.com/
Waddington, NY
VanAcker Chiropractic, PC
315-705-4410
https://www.vanackerchiropractic.com/
Massena, NY
Massage
Massage is physical manipulation of the body's skin, muscles, tendons and ligaments to alleviate pain, manage a health condition, and/or enhance wellness. There are several different variations of massage therapy, you are encouraged to see which techniques are offered by each massage therapist. 
Clara Fargo, Massage Therapist
315-355-7626
http://trilliumyogacenter.com/our-people/clara-fargo-massage-therapist/
Potsdam, NY 
Murphy's Massage
315-742-2527
https://jennifermurphy.massagetherapy.com/
Potsdam, NY
Custom Care Massage Therapy
518-396-6202
https://www.customcaremassagetherapy.com/
Potsdam, NY
Elajio Essentials Day Spa
315-528-3799
https://elajioessentialsdayspa.com/
Ogdensberg, NY
Acupuncture
Based in Chinese medicine, Acupuncture is a healing modality commonly used to treat pain, stress management, harmonize the body, and overall wellness. It involves inserting very thin needles into the skin at strategic points.
5 Elements Living (Shelby Connely)
315-262-2622
http://www.fiveelementsliving.com/
Colton, NY
Ayurveda
Ayurvedic medicine is one of the oldest holistic healing modalities. Originating in India, the term "Ayurveda" is derived from the Sanskrit words and translates to "knowledge of life". Ayurveda combines natural therapies, diet, exercise, and lifestyle changes to regain a balance between the body, mind, spirit, and the environment.
Flying Lotus Yoga Center & Juice Bar (Kelly Burnham, AYS)
315-854-1699
www.flyinglotus.yoga
Canton, NY
Nutrition Health, Holistic Health, Natural Health Coaching
Holistic Health Coaching centers on the belief that whole health can be achieved through a holistic (whole body) approach to nutrition and lifestyle. Providing your body with whole-health support and nutrition can help to prevent disease and promote physical, mental, and emotional health and wellness.
Paula Youmell, RN, Wise Woman Nurse ®
https://www.paulayoumellrn.com/
Paula Youmell, RN, MS, Wise Woman Nurse®, is a Functional Medicine Health Educator who teaches, inspires, and motivates you to create tangible results in your self healing lifestyle.
Potsdam, NY
Fountain of Health
Beth Bergman, RN
https://www.facebook.com/Fountain-of-Health-Natural-Improvement-Center-367959889979031/
Through Nutrition Response Testing, Beth uses whole food supplements to design an individual program which allows your body to repair itself naturally. The goals is to create an avenue for anyone of any age to attain a higher level of wellness.
Canton, NY
Blue Lotus Aromatics and Wellness
https://www.facebook.com/BlueLotusAromatics/
Kathy L. Wilcox, M.A. RYT-200 Yoga Instructor, Certified Clinical Aromatherapist, Reiki Practitioner, Tarot Reader, Certified Rehabilitation Counselor
Potsdam NY
Stay tuned for more modalities and practitioners coming in next week's post!