Explore Ogdensburg for a Day
Whether you are looking for a day trip or overnight stay, Ogdensburg, NY is a great waterfront destination.
How to Get There:  From due south, take Route 68, Route 812 or Route 37 North. From due north (Canada), cross the border in Prescott, Ontario.
Ogdensburg might appear to be an unassuming town, but don't be fooled because it's filled with hidden gems if you know where to look. 
Home to some of the best freshwater fishing in the country with a one-mile span of seaway separating the United States from Canada, the mighty St. Lawrence River is a source of pride and joy for locals. On the food front, our local eateries serve up both classic dishes and totally unique cuisine, all with a homemade touch, especially when it comes to the sweet stuff.

There's also no shortage of culture and history in the Burg. The famed Remington Museum and the historical Fort de la Presentation bring a depth to the old brick buildings and homes that line the streets and public spaces paying homage to days gone by. Even the fish are legendary, with tales of the mighty muskies swimming the St. Lawrence, rarely caught but often sought after by locals and visitors who come from far and wide to try their luck.
Whether you're hungry for adventure or just hungry for some good food and fun, a day trip to Ogdensburg is sure to leave you feeling satisfied.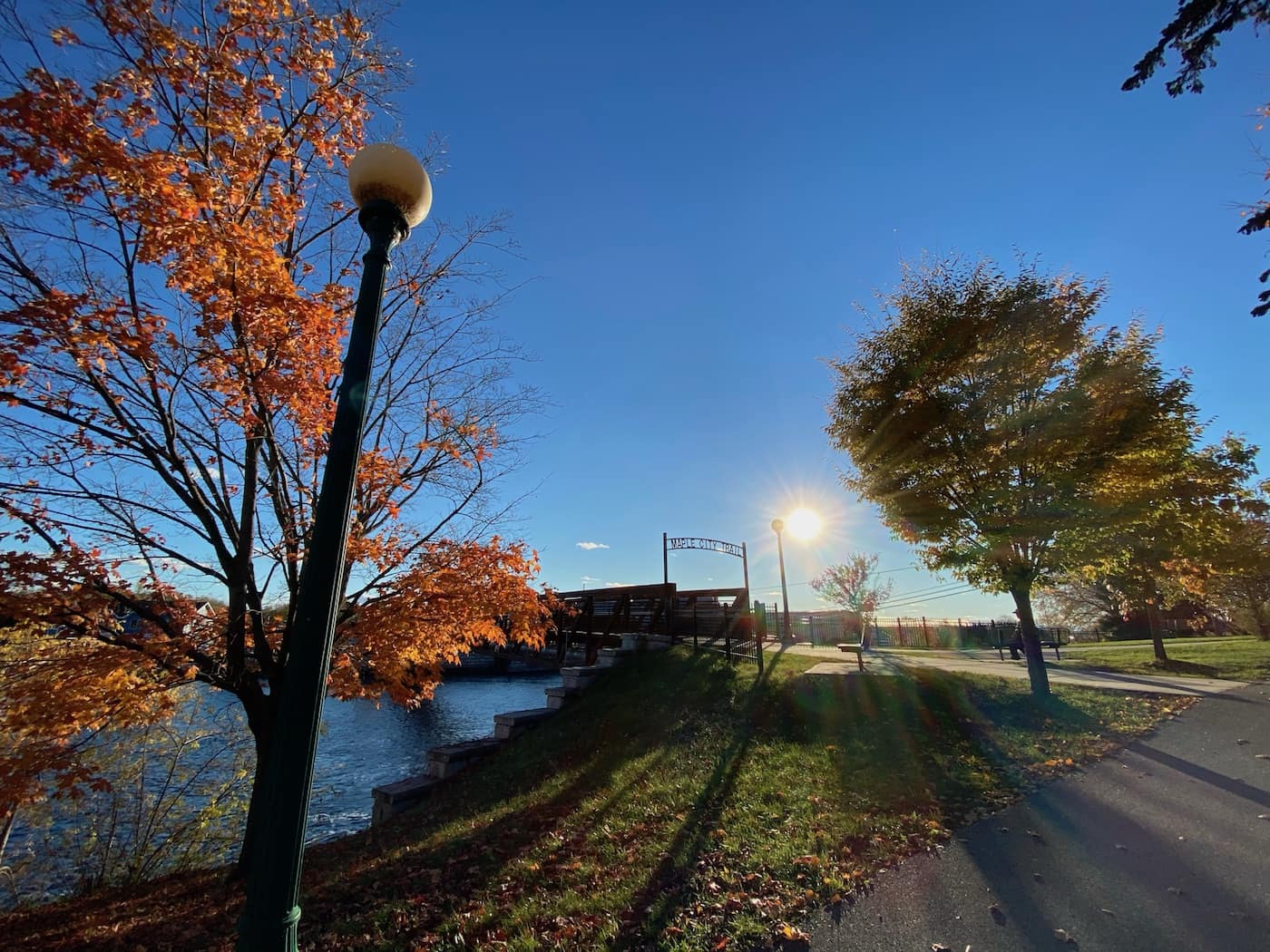 Food - Where to Eat in Ogdensburg!
Start your Ogdensburg day trip with breakfast at Phillip's Diner. With its retro vibe, its classic all-American breakfast menu, and prices that might actually make you nostalgic, this unassuming little eatery serves up a truly authentic all-American dining experience. Though seating might be limited (particularly due to COVID), service tends to be quick so you shouldn't have to wait too long for a table.
Nested within Hosmer's Marina, Smuggler's Cafe is an awesome place to grab a bite for lunch (or dinner). Known for hosting an array of fun-runs, bike races, fishing tournaments, live music, and general good times, Smuggler's Café at Hosmer's Marina has a lively happy hour and a well-rounded menu with area favorites and ever-changing chef's specials.
If you just want to grab lunch and go, stop by the Wimpy's Inn Food Truck. Though the serving style might sound trendy, the namesake sauce is totally original and was invented right here in Ogdensburg in 1932. The menu offers an array of comfort food (think burgers, hotdogs, fish, and fries) all dressed to perfection with the famed Wimpy sauce. Most often found at 803 Ford Street, the food truck is usually open for business from April through October, but definitely check the Wimpy's Inn Facebook page for their whereabouts and hours.
Looking for a sweet snack? Stop by Fish'er Chips and grab a few scoops of ice cream or a soft-serve portion. Or pop in to Sugar Rush Bakery. Newly established in 2020, Sugar Rush Bakery is already a fan-favorite amongst locals. Think sticky, gooey cinnamon rolls, and a delicious assortment of turnovers, pies, cakes, shortbreads, cheesecakes & more – all handmade with love right here in the Burg. 
For dinner, Bayside Grill perches above the mighty St. Lawrence and caters to palates and diets of all types, offering both indoor and patio seating. Pick the right time and partake in the ever-changing happy hour specials. Pick the right night and enjoy a little live music with your dinner & drinks. (Keep in mind that the entertainment schedule may be limited due to COVID.)
Gran View is the place to celebrate a special occasion. Overlooking the river, you can opt to dine inside or enjoy your meal on the patio.  An upscale menu compliments the beautiful view. Think oyster Rockefeller, bacon-wrapped filet mignon, pork shank osso bucco, and Grand Marnier crème brulee. Reservations recommended.
And for drinks or desserts, Sips has beer flights, happy hour specials, and out-of-this-world homemade desserts. And for waterfront experience, the Tiki Bar sits right on the water in the summer and serves casual drinks and snacks.
Lodging - Where to Stay in Ogdensburg!
If you aren't lucky enough to live in Ogdensburg but need to stay overnight, there's plenty of room for the whole family.

Each room at the Sherman Inn is a tribute to a president who has passed through Ogdensburg at one point during their time in the administration. The library and breakfast are also guest favorites.
The Inn at Gran View is next to the St. Lawrence River and is known for its amazing views (sunsets in particular). With a restaurant and outdoor pool on site, they even have kayaks they let guests use to explore the river.
The Stonefence Resort is a riverfront motel offering a pool, terrace (including grills and picnic tables) and sports courts in a relaxed setting with great hospitality and clean spacious rooms.
Cool Things to Do in Ogdensburg
The great thing about Ogdensburg is that as a relatively small town, most of the fun stuff is kind of close together. Even if your activities aren't quite within walking distance, it's sure to be a short drive.
Tiffani Amo is the owner of Komodo Media, a website development firm based in her hometown of Ogdensburg. Newly returned home after living abroad and traveling throughout the USA, Tiffani and her Aussie husband are most likely to be found exploring the big outdoors or enjoying the company of good friends and family.
About Our Day Trip Series
St. Lawrence County is geographically large, meaning lots of day trip possibilities. Our day trip series will focus on the cool destinations in our county that make an excellent day trip, whether you're a tourist, a life long resident, or somewhere in between.