Whether you have a bit of time or an entire day, hopping over to Colton, NY is an instant day maker.
How to Get There:  From Potsdam, take Rt. 56S and then take a left onto Main Street in Colton. From Rt. 3 turn at Seveys Corners, take Rt. 56N and then take a right onto Main Street.
---
General Idea
One of my favorite things about Colton is it's understated beauty and low key energy.  Colton is also home to the Stone Valley Trail where the variety in topography and dramatic scapes make this trail perfect for anything from an arduous hike to a forest bathe. One of my favorite things about the trail is its accessibility. You can walk less than two minutes down the trail from the parking lot and spot gorgeous waterfalls, a hallmark of the trail.
The main activity in Colton is the Stone Valley Trail, which you can enjoy multiple ways. There are two entry points off Main Street where the trail is just over three miles each length. There are trailheads on either side of the river so you can choose to take an immediate left before the bridge and park in the parking lot there, walk down the trail and over a little bridge to the main trail along the water.  Or you can go over the bridge and take your first left next to the fire station and you will see the parking lot and trailhead there.  My favorite is the latter, but both are equally enchanting.   You can make a loop of it if you don't mind some road walking in between making it a good seven mile loop.
After that about 10 minutes up the road from downtown you can pop by Birchbark Bookshop. It's whimsical atmosphere and collection of signed Adirondack and local classics, as well as countless other treasures you didn't know you needed until you find them, makes this place an absolute must visit.  Home to 75,000 books and counting you might just very well get lost in one.
There is a canoe launch right over the bridge to the right where you can put in a kayak or canoe and paddle around taking note of the thousands of waterlilies in the heat of summer. If you don't have a boat you can rent one from Higley Outfitters, located in South Colton a hamlet of Colton.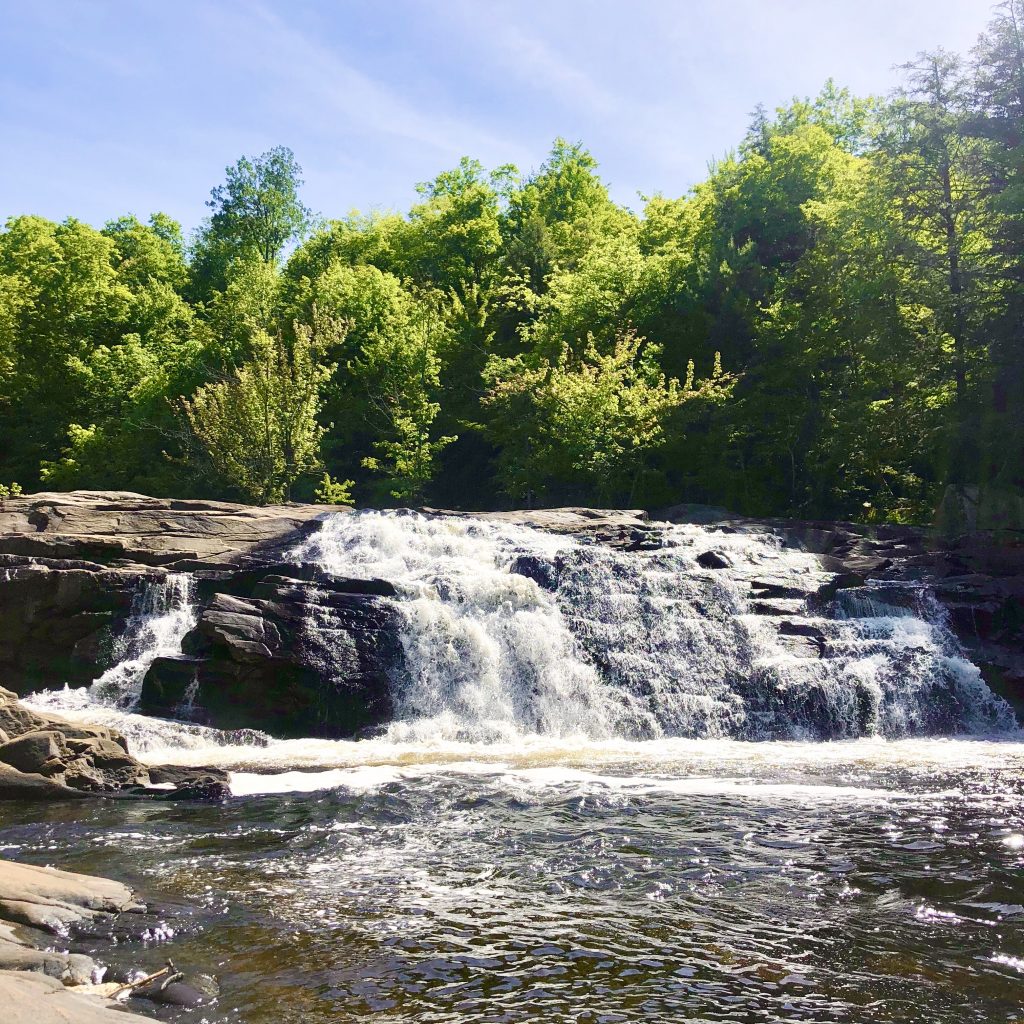 Lodging - Where to Stay in Colton!
If you are from out of town or looking for a staycation and wanted to make a night of it, Five Elements Living is just around the corner and up the hill from Kunoco.  They are accepting guests in compliance with their COVID-19 protocol.  Even if you don't stay make sure to call ahead and place an order to pick up some of their artisanal hand crafted apothecary chocolates (also sold at Maple Run Emporium in downtown Potsdam).
Cool Stuff to Know:
If you choose to take the trail right before the bridge you will see remnants in the form of rock walls and foundations from the Colton Tannery established in 1856.
If you do end up popping over to South Colton be sure to stop in at Higley Hooch to check out their curated wine and liquor selection.
Higley Flow State Park has free cross country ski rentals and free groomed trails all winter that are beyond stunning.  Mahogany Ridge, a restaurant/ newly renovated bar is also right downtown South Colton and a great spot to grab a hot toddy after skating at the outdoor rink right behind the restaurant that is open all winter for the public and community.
Take note of the historic Colton Hepburn Library! From the way I've heard it, Hepburn grew up in Colton, made it big and wanted to give back to his local community and had that beautiful library built. Dennis, the main librarian keeps an incredible selection of brand new books going and can find you any book you'd ever want to read.
Don't want to get lost? This map of the Stone Valley area is courtesy of the ADK Mountain Club, the Laurentian Chapter. 
Guest blogger Elizabeth Siematkowski is a licensed therapist and North Country enthusiast. Liz hails from Canton where she lives with her dog Lucy.
About Our Day Trip Series
St. Lawrence County is geographically large, meaning lots of day trip possibilities. Our day trip series will focus on the cool destinations in our county that make an excellent day trip, whether you're a tourist, a life long resident, or somewhere in between.